Tanita Rahmani's CoLAB Crowdfunding
$3,000.00

Goal

$3,175.00

Raised

0

Days to go
From Tanita:
It's quite unbelievable that I'm here right now. Maybe for some people, who thought that I would be teaching and researching at a university, this new direction I'm taking as a producer in the documentary arts may appear a far flung. But for all of you who knew me deeper, will know that this path has always been my path. And this time, I am deeply grateful to have been offered the chance to train my ears, eyes, mind, and heart through a collaborative project right in New York City, where the community and arts thrive. I never thought that I'd come this far.
But this program is beyond my reach without your support. I hate to admit it, but it's often true for artists from the Global South. The support you give to me will cover the program fee and my rent at the UnionDocs residency for the first few months of the program. While this journey is personal, the impact is communal. For my community and yours. I'm immensely grateful to all of you for your support and for believing in me.
---
Tanita Rahmani is an audio producer, researcher and educator from Jakarta who is passionate about articulating abstract ideas into stories. She holds a masters in law from the University of Cambridge, where she produced the faculty's first podcast. She led a team that pioneered long-form audio storytelling in Indonesia through Indonesia In-depth, a podcast that seeks deeper meanings behind overlooked issues. Her audio pieces have been added to the mandatory material of Harvard's SEA studies. She is fluent in English and Indonesian.
Website: indepthcreative.com
Instagram: @indepthcreates
Twitter: @indepthcreates
I invite you to check out a piece of my work:
The story about how instant noodle become Indonesia's popular lifestyle and food culture:
---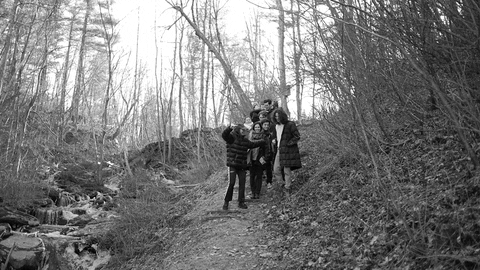 About the CoLAB: The UnionDocs Collaborative Studio (CoLAB) is a 10 month program for a select group of media artists from the US and abroad. Based in one of NYC's most exciting neighborhoods, Williamsburg, Brooklyn, CoLAB offers a platform for exploring contemporary approaches to the documentary arts and a process for developing an innovative collaborative project. The program consists of weekly production meetings, seminars, screenings and other public programs, along with regular masterclasses and critiques with visiting artists.
In a recent article in The New York Times, film scholar Scott MacDonald, remarked, "UnionDocs has a healthy sense that the older definitions of what constitutes 'experimental' cinema and what constitutes 'documentary' are up for grabs." Similarly, the UnionDocs Collaborative Studio represents a new and alternative fellowship model, offering residency and visa support for six participants coming from abroad and an equal number of spots for local, non-resident participants. It is designed to be affordable and, although participants are asked to make CoLAB their primary creative focus, the schedule does accommodate full-time or freelance work. Rather than applying with a project proposal or rough cut, all participants are selected on the basis of previous work and enter the program at square one, open to discovery and fresh connections.
UnionDocs is not simply the host for this activity, it takes an active role producing the collection of short documentary works that comprise the collaborative project. The theme or focus for the year is chosen by the Artistic Director, and resources and research to support this direction are gathered. The CoLAB Director leads the group through an incremental process where new ideas and new partnerships form; each participant finding their own avenues of creative contribution. Regular readings and assignments for seminars stimulate creativity, open discussion and debate, and offer a common set of references for the group. Master classes with visiting artists provide encouragement, inspiration and exposure to a diverse set of conceptual perspectives and practical methods. As projects reach their final edit, unique plans for exhibition and distribution are formulated. The Brooklyn Rail summed it up with the title of their feature article: "UnionDocs Brings Auteurs Together". For some, participation in the program may lead to further study. For others, it may lead to independent projects or strengthened careers within the industry. For all, it is an unparalleled immersion in the expansive field of documentary art. Learn more about the UnionDocs Collaborative Studio here.
Rewards
$

100.00
A thank you note and 3 foley sound effects recorded by me.
1 backers
$

500.00
An intimate audio recording of people from various ethnicities in Indonesia saying "thank you" in their local dialects and 3 foley sound effects recorded by me.
0 backers
$

1,000.00
An audio letter from Jakarta featuring the ambiance and candid scenes around the city and 3 foley sound effects recorded by me.
1 backers
Name
Donate Amount
Date
Kelan O'Brien

$

25.00
October 14, 2021
Seth Soderborg

$

50.00
October 13, 2021

$

3,000.00
October 11, 2021
Matt Ooley

$

100.00
September 19, 2021