Akeema-Zane's CoLAB
$2,675.00

Goal

$3,905.00

Raised

0

Days to go
New York, United States (US)
From Akeema:
Supporting me in this time is not only an extension of financial aid but also a vote of confidence. The past two years have seen me braving new direction in my artistic and professional practices during a deeply speculative time of current events and surprisingly this has equally been a journey filled with exciting promise and reward. Some of these rewards have included being a part of the 59th Ann Arbor Film Festival with collaborator Rena Anakwe. Our audiovisual work "Sonic Escape Routes: Shall We Fly? Or, Shall We Resist?" canonized the contemporary impacts of Weeksville's historical society – a free Black community who faced many threats which can be likened to that faced today. This commissioned work by Weeksville Heritage Center helped to bolster my experience as a director, composer and performer. Since then, I have worked to score the works of other collaborators with works featured at Museum of Art and Design, Arts Nova and Black Start Film Festival.
Being accepted into this year's CoLab fellowship cohort helps to further cement the direction of my work bridging my literary, music and cinematic practices with my commitment to building community. I am honored to take on the challenges to continue to foster deep collaborative practice and with the help of anything you are able to monetarily gift at this time, I will be able to bring forth my vision of what equity looks like.
---
Akeema-Zane is an artist and researcher whose practice centers the literary, music, cinematic and performance traditions. She has been artist-in-residence, student, fellow and performer at Groundation Grenada, Cave Canem, The Maysles Documentary Center, Archive for Research in Archetypal Symbolism, and The School of Making Thinking. At The School of Making Thinking, she was a part of the 2018 Immersion 2.0 cohort, where she designed her first Virtual Reality experience which featured herself. She is currently serving on the Board of Directors of The School of Making Thinking. As a native New Yorker she is proud to have spent many years working at The Schomburg Center for Research in Black Culture where she worked as an archival curriculum researcher for her last post there. Collaboration is a major tenet of the artists' practice and one of her collaborative works "Sonic Escape Routes: Shall We Fly Or Shall We Resist" was featured in the 59th Ann Arbor Film Festival. Her published writings include: There's a Monopoly on Change, Interlude, When Money Can't Buy You Home and Basil Grows from Mother Earth.
***
www.akeema-zane.com
@kissingtherain (ig)
---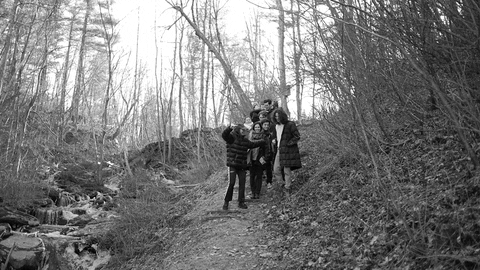 About the CoLAB: The UnionDocs Collaborative Studio (CoLAB) is a 10 month program for a select group of media artists from the US and abroad. Based in one of NYC's most exciting neighborhoods, Williamsburg, Brooklyn, CoLAB offers a platform for exploring contemporary approaches to the documentary arts and a process for developing an innovative collaborative project. The program consists of weekly production meetings, seminars, screenings and other public programs, along with regular masterclasses and critiques with visiting artists. In a recent article in The New York Times, film scholar Scott MacDonald, remarked, "UnionDocs has a healthy sense that the older definitions of what constitutes 'experimental' cinema and what constitutes 'documentary' are up for grabs." Similarly, the UnionDocs Collaborative Studio represents a new and alternative fellowship model, offering residency and visa support for six participants coming from abroad and an equal number of spots for local, non-resident participants. It is designed to be affordable and, although participants are asked to make CoLAB their primary creative focus, the schedule does accommodate full-time or freelance work. Rather than applying with a project proposal or rough cut, all participants are selected on the basis of previous work and enter the program at square one, open to discovery and fresh connections. UnionDocs is not simply the host for this activity, it takes an active role producing the collection of short documentary works that comprise the collaborative project. The theme or focus for the year is chosen by the Artistic Director, and resources and research to support this direction are gathered. The CoLAB Director leads the group through an incremental process where new ideas and new partnerships form; each participant finding their own avenues of creative contribution. Regular readings and assignments for seminars stimulate creativity, open discussion and debate, and offer a common set of references for the group. Master classes with visiting artists provide encouragement, inspiration and exposure to a diverse set of conceptual perspectives and practical methods. As projects reach their final edit, unique plans for exhibition and distribution are formulated. The Brooklyn Rail summed it up with the title of their feature article: "UnionDocs Brings Auteurs Together". For some, participation in the program may lead to further study. For others, it may lead to independent projects or strengthened careers within the industry. For all, it is an unparalleled immersion in the expansive field of documentary art. Learn more about the UnionDocs Collaborative Studio here.
Name
Donate Amount
Date
Rena Anakwe

$

50.00
September 23, 2021
Katrina Joosten

$

50.00
September 20, 2021
Sia Mensah

$

25.00
September 20, 2021
JAZSALYN Mcneil

$

50.00
September 18, 2021
Naima Ramos-Chapman

$

100.00
September 13, 2021
Steven G. Fullwood

$

50.00
September 12, 2021
chaz hall

$

50.00
September 11, 2021
Alexa Teevan

$

100.00
September 11, 2021
Ladi'Sasha Jones

$

50.00
September 11, 2021
Helen Richardson

$

250.00
September 11, 2021
Jermel Moody

$

25.00
September 11, 2021
Felisha Ledesma

$

100.00
September 10, 2021
Sophie Traub

$

35.00
September 10, 2021
Devin Barrett

$

25.00
September 10, 2021
Joel Diaz

$

50.00
September 10, 2021
Tatiana Spencer

$

100.00
September 10, 2021
Darlene Ricco

$

200.00
September 10, 2021
Ann-Derrick Gaillot

$

50.00
September 10, 2021
Jonathan Gonzalez

$

50.00
September 10, 2021
Cara Vogel

$

20.00
September 10, 2021
Lehna Huie

$

25.00
September 09, 2021
Clint Young

$

50.00
September 09, 2021
Savannah Harris

$

25.00
September 09, 2021
Nelson Parrish

$

100.00
September 09, 2021
Nailah Ricco-Brown

$

100.00
September 09, 2021
Jasmine Johnson

$

50.00
September 09, 2021
Anonymous

$

50.00
September 09, 2021
Dyani Douze

$

25.00
September 09, 2021
Brendan Schlagel

$

25.00
September 09, 2021
Anonymous

$

25.00
September 09, 2021
James Whalen

$

50.00
September 09, 2021
Anonymous

$

1,000.00
September 09, 2021
Lydia Nichols

$

25.00
September 09, 2021
Anonymous

$

500.00
September 09, 2021
Joanne Petit-Frere

$

100.00
September 09, 2021
Sonia Davis

$

50.00
September 09, 2021
April Wen

$

50.00
September 09, 2021
Taja Cheek

$

100.00
September 09, 2021
Trae Harris

$

25.00
September 09, 2021
Akeema Anthony

$

100.00
September 09, 2021