Adnan is a lyrical documentary portrait of artist and writer Etel Adnan, shot over the final five years of her life. Tn her 90s, experiencing a surge of International acclaim, she is processing the past. attentive to the present, and working with philosophic depth and feeling
Adnan
$50,000.00

Goal

$0.00

Raised

0

Days to go
DONATIONS
Any donations made are greatly appreciated and tax-deductible. Credit cards or checks can be accepted, though donations made by card will have a small fee deducted. Checks can be mailed directly to UnionDocs, 352 Onderdonk Ave, Ridgewood, NY 11385. Please note Adnan in the memo. Please contact Lauren Whittaker at [email protected] to pay over ACH, wire transfer or wise. Thank you so much for your interest in Adnan!
---
SYNOPSIS
The feature documentary is part of a larger project of moving images made in collaboration with Etel Adnan. A short film is premiering in 2023, with installations and the feature documentary in process.
In 2012, at the age of 86, Etel Adnan was launched onto the main stage of the international art world when she was 'discovered' by Documenta 13. Curator Hans Ulrich Obrist has called Adnan, 'one of the greatest artists of our time'.
Since then, Adnan's work has received major solo shows at the Guggenheim, Serpentine Galleries, Centrum Paul Klee, Institut du Monde Arabe, SFMOMA and Mass Moca among others. Her work is held in collections of the major museums.
An important poet before the attention to her visual art, Adnan lived her life at the crossroads of cultures. Born and raised in Beirut in 1925 by an Ottoman Turk father and Greek mother, Adnan was educated in French schools in Lebanon. She left for Paris to study philosophy at the Sorbonne, later doing advanced work at Harvard and UC Berkeley. In California, during the Algerian war for Independence, Adnan stopped writing in French and turned to English for her anti-war poetry. Settling in California, Adnan also began to paint, creating abstract works in vivid color, ink drawings, tapestries and folded paper leporellos.
Her writing (poetry, essays, plays) is widely translated and taught, including her book-length poem, The Arab Apocalypse, and her long-form essay, Journey to Mount Tamalpais. Her anti-war novel, Sitt Marie Rose, won the France-Pays Arabes award. Adnan received the Ordre de Chevalier des Arts et des Lettres, France's highest cultural honor, from the French government in 2014.For Adnan, writing and art are extensions of her larger philosophical reflections, a connection the film explores.
Conversations about exile are linked by Adnan to the surge of ink on the page, and to footage of her new mural in an immigrant neighborhood in Lille. Discussions about time and line connect to writing, her history, and the knot-by- knot weaving of her tapestries in a rural French factory. We are with Adnan in the studio, as she travels across Paris to and opening of a new show, into a book signing with Robert Wilson, and as she responds to new shows around the world. In Paris, Adnan speaks profoundly of the landscapes that have shaped her, from Lebanon and the Arab world, to the powerful connection she found in California.
When discussion lead to Adan's relationship to California's Mount Tamalpais, a source of Philosophic and aesthetic inspiration for over of years, the filmmaker begins shooting the mountain to bring back to Paris-bound Adan.
Shot with rare access to Adnan in her daily life, in her studio and in her thinking, the film bring the viewer into Adnan's conscious sense of being. Narratively the film takes its shape from a drawing of the mountain Adnan gave the filmmaker. Visually and aurally it build lyrically and associatively to reflect this great artist with understanding and intimacy.
DIRECTOR STATEMENT
I first saw Etel Adnan's work at the 2014 Whitney Biennial where her vivid paintings struck me. Four months later, I wandered into a Paris art bookshop and turned to see three images by Etel Adnan on the wall, a celebration of the arrival of the catalog of a recent show, "Etel Adnan in All Her Dimensions." It felt like a sign. That evening on the phone I told my mother about my joy in seeing these paintings again and she gasped, "Etel Adnan was my philosophy professor in college!" I soon discovered Adnan was also a major poet and I emailed a New York friend who had published her work and he gave me her email. I emailed Adnan telling her how much her paintings had meant to me, and how much her presence had meant to my mother decades before and she invited me to her home. The next day she opened the door, 'mon petite fille' (granddaughter). We soon became friends and only two years in did I decide to film her. Later, she would tell me she had a sixth sense that I should make this film. To know Adnan is to experience a radical understanding of color, a philosophic sensitivity in language and line, stories from a life at the crossroads of cultures, and her powerful engagement in art and being.
---
ABOUT FILMMAKER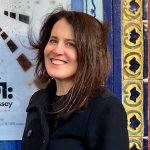 DIRECTOR
MARIE VALENTINE REGAN
Regan is an American filmmaker based in Paris. Trained at Francis Ford Coppola's American Zoetrope, she studied fine art filmmaking at the San Francisco Art Institute and received her MFA in film directing at Columbia University. A MacDowell Colony Fellow, Marie's film and video work has screened at more than thirty international film festivals including SXSW, Bilbao Zinebi and the Sao Paolo Film Festival. Her work has been screened at The American Cinematheque, the Museum of Sound and Image, Sao Paolo and televised in Asia, Europe and the US. In 2015, she co-directed with Chi-hui Yang the Oberhausen Film Symposium, a gathering of filmmakers, archivists and scholars exploring the future of the moving image. A former member of the Film faculty at Columbia University and Bard College, she now teaches film at the American University of Paris.
ABOUT FISCAL SPONSORSHIPS
Through this initiative, UnionDocs offers individual artists our non-profit tax-exempt status, administrative services, extensive fundraising and grant writing experience, along with seasoned knowledge of the field to provide easy to follow guidance and support. We champion projects at any stage of production that align with our mission to expand the field of documentary art.