Short Story
Help Andy participate in the UnionDocs Carceral Screens and the Abolitionist Imagination CoLAB!
Andrea Conte's Collaborative Studio Crowdfunding
$1,000.00

Funding Goal

$1,135.00

Funds Raised

0

Days to go

Goal and Date

Campaign End Method
39 Campaigns | 0 Loved campaigns
From Andy:
Everyday we hear about violence. Whether it's through wrongful extradition, massive bombing campaigns in Syria, a new prison being built in Kemptville, yet another police shooting during an incident of mental distress in Brampton, and now mass shootings in Nova Scotia and race-based attacks on muslims in Quebec City, London, and Edmonton. And these are only the headlines.
What about all the experiences that weren't filmed on a cell phone, or didn't make the news? When another suicide attack happens in Kandahar, Afghanistan, what kind of bomb threats or "Taliban and hostages" game will occur in Kandahar, Saskatchewan, in Canada, next time?
I am seeking ways to help realize and inspire a more just and equitable society through my work in documentary, freedom of information, diplomacy, and abolition. I am using the Carceral Screens CoLab experience at Union Docs as a way to explore how to represent state violence in media – without creating more violence in the process – and what the abolitionist image looks like. I am excited to be making work in community with other skilled artists in order to effectively do the work that so desperately needs to be done.
I have never been the subject of a crowdfunding campaign before. I don't like to shill myself. But I am asking for your support today during a pandemic season that has brought production schedules to a halt, and will start again soon. Thank you so much for your consideration.
---
Andrea Conte is a writer, researcher, and filmmaker. His work deconstructs intersections between politics and state violence and has been previously published by CBC Television, CBC Radio, TV Ontario, The Washington Post, and several museum installations. He is a fellow of Docs In Progress (Washington DC), Union Docs Center for Documentary Art (New York), and the Saul Zaentz Innovation Fund (Baltimore). His upcoming debut feature-length film examines freedom of speech through archives of broadcast and print media created and produced by those who are imprisoned.
You can check out Andy's previous work here:
---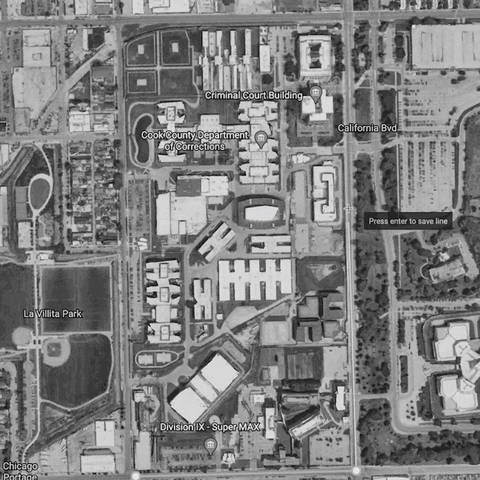 About the CoLAB:
The UnionDocs Collaborative Studio (CoLAB) is a program for a select group of media artists from the US and abroad. Based in one of NYC's most exciting neighborhoods, Williamsburg, Brooklyn, CoLAB offers a platform for exploring contemporary approaches to the documentary arts and a process for developing an innovative collaborative project. The program consists of weekly production meetings, seminars, screenings and other public programs, along with regular masterclasses and critiques with visiting artists. In a recent article in The New York Times, film scholar Scott MacDonald, remarked, "UnionDocs has a healthy sense that the older definitions of what constitutes 'experimental' cinema and what constitutes 'documentary' are up for grabs." Similarly, the UnionDocs Collaborative Studio represents a new and alternative fellowship model, offering residency and visa support for six participants coming from abroad and an equal number of spots for local, non-resident participants. It is designed to be affordable and, although participants are asked to make CoLAB their primary creative focus, the schedule does accommodate full-time or freelance work. The Brooklyn Rail summed it up with the title of their feature article: "UnionDocs Brings Auteurs Together". For some, participation in the program may lead to further study. For others, it may lead to independent projects or strengthened careers within the industry. For all, it is an unparalleled immersion in the expansive field of documentary art.
UnionDocs hopes to build from our experience running the Collaborative Studio (read more about the 10 month CoLAB here), but retool this well established program to fit current necessities. This new opportunity will be shorter, but more concentrated with remote participation that brings together a talented group of emerging artists to engage in a process of research and collective production with a goal not so much to tell a story claimed by a single community or individual, but instead to dismantle a narrative insidious within contemporary society through its constant repetition. In this iteration of our Collaborative Studio, co-designed with esteemed experimental filmmaker Christopher Harris, we invite a collective to examine, contextualize and dismantle scripts of the carceral state from the archives of popular culture. Learn more about this year's Collaborative Studio here: Carceral Screens and the Abolitionist Imagination.
Rewards
$

50.00
A personal thank you note!
0 backers
$

97.00
We make a portrait together.
1 backers
$

98.00
We photograph some place you love.
0 backers
$

99.00
Your own 1min slow motion film, we'd write it together.
1 backers
$

100.00
A tutorial on how to file a Freedom of Information request to your local government, on whatever topic you like, appeals included.
4 backers
Name
Donate Amount
Date
Michael Boston

$

100.00
July 10, 2021
Dawna Cobb

$

150.00
July 09, 2021
Emily Glazer

$

35.00
July 08, 2021
Javier Espinal

$

179.00
July 05, 2021
Anonymous

$

97.00
June 23, 2021
Anonymous

$

25.00
June 22, 2021

$

450.00
June 21, 2021
Rahul Bhagat

$

99.00
June 20, 2021